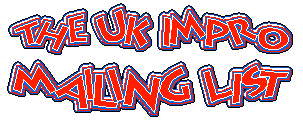 Well, what can I say? Welcome to the UK Impro Mailing List (yes, you're welcome to it). As you can no doubt tell from the inspired name, it is dedicated to the discussion of UK Improvisation. Both performers and punters are welcome! So, if you want to talk about impro theory, courses, groups, games and shows, find kindred spirits here.

This list is moderated by The High Priestess. Please feel free to send e-mail directly to me at priestess@chinwag.com if you have any questions.



In short, if there isn't a script and it's funny, this is for you. Enjoy.

Subscribing
To subscribe, send an e-mail to list-manager@chinwag.com with this instruction in the BODY of the message:

subscribe uk-impro

If you want to subscribe from an e-mail address other than the one you are using (a private address for example), then send:

subscribe uk-impro The@E-Mail.address

When you are subscribed, you should start getting mail from whichever of your fellow list members are feeling talkative. You can just read it if you want, but if you want to join in, mail uk-impro@chinwag.com and say hello!


Help File
When you have subscribed, you will find the help file useful if you want to find out about other commands you can give the server. To get the help file, type help in the BODY of a message to list-manager@chinwag.com.


Link this Page
If you have a web page which involves UK Improvisation in some way, and would like to link to this page, feel free to copy one of these logos which come in two attractive sizes and background colours for your convenience and aesthetic pleasure: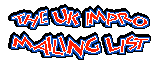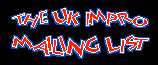 If you let me know when you've linked, I'll add you to the Impro Link List below:


The Impro Link List
Comedy Store
Comedy Store Players
Improbable Theatre
London Theatresports
Masterson Inheritance
Prairienet British Comedy Clearinghouse
Twisted Nipple Improv
Whose Line is it Anyway?
Big Stinkin International Improv & Sketch Comedy Festival 3
The UK Impro Messageboard
The Improbable Improvisational Ensemble



With huge thanks to Sam & the other chinwaggers who made all of this possible...

If you have any queries, please mail The High Priestess.
---
---
This Improvisation Webring site owned by High Priestess.
[ Previous 5 Sites | Skip Previous | Previous | Next | Skip Next | Next 5 Sites | Random Site | List Sites ]
---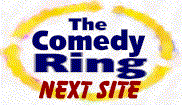 This Comedy Ring site is owned by The High Priestess.

Click for the Next Page Skip It | Next 5 | Previous Site]

Want to join the ring? Click here for info.
---
This page is part of The Oracle of the High Priestess